2018 Volkswagen Tiguan: German-Engineered Versatility
August 31 2018,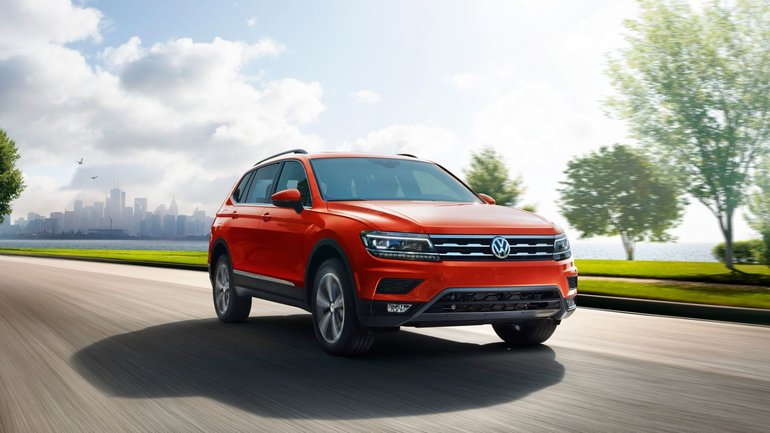 The Volkswagen Tiguan has come a long way since it first launched back in 2009. The first generation was definitely designed to be fun and sporty, but it wouldn't be wrong to say that it didn't have the necessary versatility to please most North American families. It did very well on the world stage, but buyers on this side of the pond needed a bit more passenger and cargo space.
In other words, you'd have a blast driving it, but its limited cargo capacity and interior space made it a harder sell. Fast-forward to last year when Volkswagen introduced the all-new Tiguan. With one glimpse you could tell that Volkswagen had listened to Canadian consumers and their families.
New VW Tiguan: More Space and Room for Seven
The new Volkswagen Tiguan is bigger, bolder, and larger in every way. The models we get here are all built on the VW MQB platform featuring an extended wheelbase. That's a lot of words to say that the Tiguan is among the most spacious compact SUVs in its segment, and there's even enough room for a third row of seats. That's not something you see often in this segment.
As a matter of fact, with the Nissan Rogue removing the third-row option, the 2018 Volkswagen Tiguan is just one of two models in its class to offer room for seven passengers. Now, some may feel that there's never enough room in a compact SUV for a third row, and that may be the case. But the idea here is that it's there when and if you need it, and you don't have to upgrade to a mid-size SUV just to have the option of transporting two more passengers!
There's also between 1,065 liters and 2,081 liters of cargo space available in the trunk.
That's more than the Ford Escape, Mazda MX-5, outgoing Toyota RAV4, Hyundai Tucson, and Kia Sportage. There's more interior space for passengers as well. The 2018 Volkswagen Tiguan has morphed from a fun compact SUV to a versatile compact SUV, and families love it. That said, it hasn't lost its performance side, not one bit in fact.
Still a Blast to Drive
At the heart of the 2018 Volkswagen Tiguan is a 2.0-liter, four-cylinder engine that delivers 184 horsepower and an impressive 221 pound-feet of torque delivered at low RPM. This engine is paired with an 8-speed automatic that ensures a smooth transition of power to the wheels and impressive comfort. Of course, having a wide range of gears also leads to better fuel economy.
In that regard, the 2018 Volkswagen Tiguan doesn't let the driver down. With an average fuel economy rating of less than 10.0 liters per 100 kilometers, the Tiguan is one of the most efficient compact SUVs you can buy despite having more torque than any competitor.
The ample torque available at low revs translates into a lively vehicle that always seems ready to pounce. That forward lunge, however, is controlled and inspiring. Passing with the 2018 Volkswagen Tiguan is also a breeze. Ultimately, this all translates into a higher level of overall confidence when driving the Tiguan.
Finally, you get more tech than you might expect in the Tiguan. Apple CarPlay, Android Auto and a host of driver assistance technologies are available, as is a completely digital instrument cluster in top-of-the-line models. The refinement level in the Tiguan is out of this world, and you'll truly feel like you are driving a luxury vehicle.
To learn more about the 2018 Volkswagen Tiguan, contact us today at Georgetown Volkswagen!