Here is what you need to know about the new 2019 Volkswagen Jetta
February 27 2018,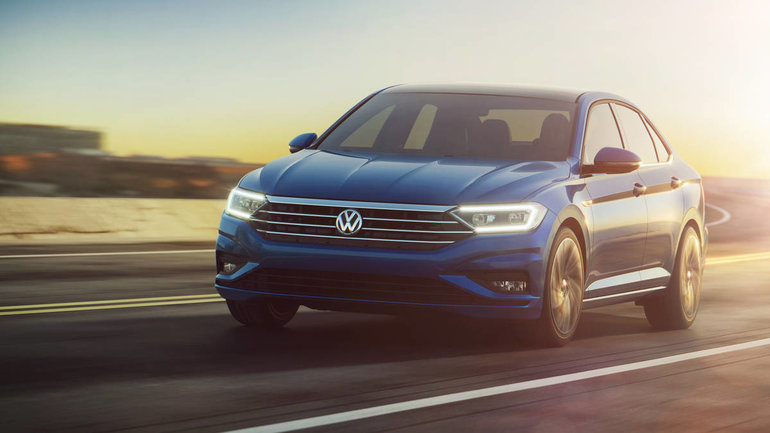 Presented at the International Auto Show in Detroit last January, the new Volkswagen Jetta has quickly become one of the most talked-about models in the automotive industry. The Volkswagen Jetta is already a very popular compact sedan, and the fact that it is completely redesigned this year would certainly generate a lot of enthusiasm.
For starters, the Volkswagen Jetta is the only car in its segment to be developed in Germany. Just that gives it a refinement and build quality that have no equal. But that's not all. Volkswagen and its engineering team have done their homework with the new 2019 Volkswagen Jetta.
The 2019 Volkswagen Jetta is improved from A to Z
With the new 2019 Jetta Volkswagen, we are entitled to a compact sedan that is improved at all levels. For starters, it is built on a new platform called MQB that serves as a basis for all new Volkswagen vehicles coming out of Germany.
This new platform has several advantages, but it is especially in terms of road behavior and interior space that we see how it stands out. With this platform as a base, the new 2019 Volkswagen Jetta will be much more spacious than the model it replaces, both in terms of the interior space and the trunk space as well.
In addition, the MQB platform will improve the handling and overall behavior of the new VW Jetta.
Inside, there are several improvements also starting with a much more elegant and refined dashboard that will include in the high-end versions the Virtual Cockpit instrument panel, a 12.3-inch digital screen that can be customized to the needs of the driver and adds a touch of luxury and exclusivity.
A four-cylinder turbo engine for the new 2019 Volkswagen Jetta
Under the redesigned hood of the new 2019 Jetta Volkswagen will house a 1.4-liter turbo four-cylinder engine developing 147 horsepower and an impressive 184 lb-ft of torque. This will make the new 2019 Jetta Volkswagen one of the most powerful cars in its class while an 8-speed automatic transmission will significantly reduce fuel consumption.
To learn more about the new 2019 Volkswagen Jetta, contact us today at Georgetown Volkswagen!