Meet Jason Morey! (The Uncle)
July 09 2015, Cassidy Tonkin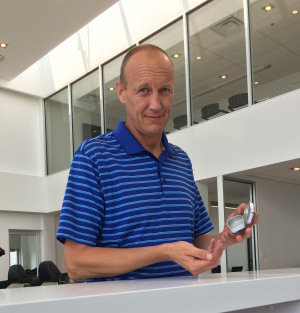 At Georgetown Volkswagen we want you to get to know us,
We will be featuring regular staff biography's profiling the wonderful, unique people we have working at our dealership. From sales to service and everyone in-between, you'll be getting to know a little bit about who we are and why we're so passionate about making your Volkswagen experience exquisite from start to finish.
Starting with the sales department – meet Jason "the uncle" Morey.
We call him Uncle Morey (and it has nothing to do with his age, we promise…) Jason lives right here in Georgetown, Ontario and has been a Volkswagen Sales expert for 8 years now! Jason is known here at the dealership for having almost every Volkswagen related item you could possibly think of, key chains, dog toys, clothes, towels and much more in his ever-growing collection. His favourite car (aside from his 2015 GTI) is a 1970 Dodge Challenger and his favourite food is chocolate. In his spare time away from the dealership he enjoys hockey, baseball, golf and restoring vintage motorcycles.
We asked Jason why he is passionate about his job and his response was:
Meeting new and interesting people every day!
Come get to know Jason for yourself here at Georgetown Volkswagen!