Service – from Start to Finish
December 02 2015, Cassidy Tonkin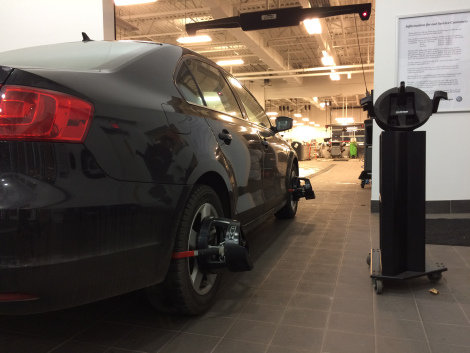 Do you ever wonder what happens during your Volkswagen's service appointment? To let you guys in on some of the awesome processes here at Georgetown Volkswagen, we did a little digging!
We start by having you pull your car directly into our service bay – to keep you comfortable and out of the elements while we check you in. Your service advisor will greet you, go over any questions or concerns you have and confirm exactly what your Volkswagen needs during your visit. Once a walk around of the vehicle is completed; you will shortly be relaxing in our lounge (coffee and Wi-Fi included) – or on your way out in our customer shuttle, or one of our rental vehicles. That's where we come in…
We start your appointment off with an alignment quick check – to make sure everything is right where it is supposed to be. Before heading to the shop, we make sure you're topped up with all fluids as well. This Jetta looks good to go!
From there, it's onto the hoist! From jobs as simple as tire switches or an oil-change to brake replacements and transmission repairs – we do it all with excellence and expertise – keeping you updated every step of the way!
To finish off your appointment, our detail department gets down and dirty with a thorough hand wash of your vehicle – so it goes home sparkly and clean. This is Anthony, part of our detail team, hard at work scrubbing this beauty last night!
Here at Georgetown Volkswagen, we are committed to excellent customer service and want to ensure that you and your vehicle leave our dealership happy, every time.
Need to book a service appointment? Give us a call or send us an email – we are always happy to help!