Spring: When Is the Ideal Time to Remove Winter Tires?
March 17 2016, Cassidy Tonkin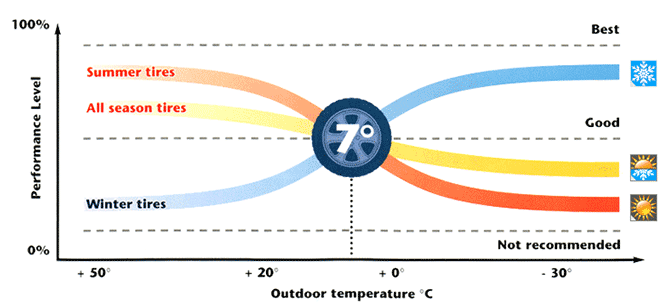 With the moody March weather lately, we are frequently asked: "When is a good time for the seasonal tire switch-a-roo?" Take a peek at this chart to help you decide when it's time to shine up those summer tires!
When temperatures reach an average of 7 degrees Celsius or higher, it is time to remove your winter tires. There are special rubber compounds found in winter tires that stay soft at low temperatures to ensure optimal contact with the road for winter driving, once temperatures reach the 7-degree threshold there may be increased wear and tear on the softer tread. While you can use summer tires below that temperature and winter tires above that temperature, you will gain the most benefit (safety as well as extending the life of your tires) by switching when temperatures average around 7 degrees.
If you're in the market for a brand new set this year, we offer full packages with tires on rims, or just the rubbers if that better suits your fancy! Check out our website or contact our Parts Department for what's on sale, what's in stock, and what's new this year: