The Super Man - Steven Vultao
July 24 2015, Cassidy Tonkin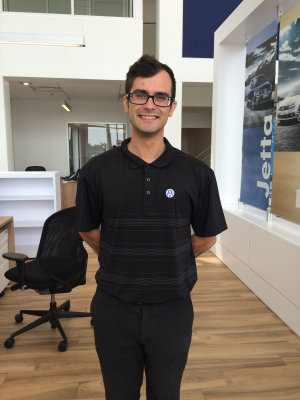 We are switching up departments this week and moving on from sales to service. Touching base with everyone in our dealership that gets the pleasure of knowing you before, during and long after you purchase your Volkswagen!
Today, we introduce to you; Steven Vultao! Steven is known around the dealership as "The Super Man".(Yes, he nicknamed himself this). Because he has an uncanny resemblance to Clark Kent himself. Hey, maybe that's why he's so quick fixing cars!
Steven has worked for us here at Georgetown Volkswagen for almost 2 years now. Before joining the service team here at Volkswagen, he worked at a Honda dealership for almost 5 years. He is certainly in love with the industry. When we asked Steven some questions to help you get to know more about him, his responses were far too unique to not post. Take a peek at this hilarious Q&A between myself and Steven:
Q: Where do you live?
A: A far, far away town in the western fields of Halton Hills, knows as Erin.
Q: What do you drive?
A: A horse-drawn wooden carriage (2007 Honda Civic, 2014 Yamaha FZ6R)
Q: What did you do before VW?
A: I worked as a ship lackey on the high seas, cleaning the deck and scrubbing the plank… Ahoy Matey!
Q: Hobbies?
A: Soccer, going to the gym, photography, mountain biking – anything to keep me active – and recently, cooking!
Q: What is your favourite food?
A: BBQ steak, or ribs with sweet potato fries and pecan or blueberry pie, with vanilla ice cream on top and caramel dressing!! Or a juicy 4 patty burger… mhmmmmm… burger
The final question we asked Steven was why he loved working at Georgetown Volkswagen and his response was:
Getting the chance to meet and connect with people every day, be it clients or fellow co-workers. I love that each day brings something new and different to the table.
Thank you, Steven, for your interesting interview! Come meet Steven for yourself in our service department at Georgetown Volkswagen.